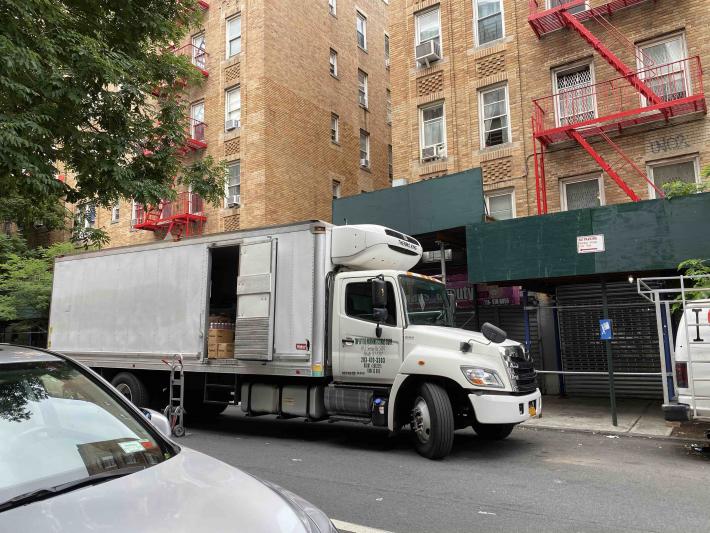 Box Truck conducting delivery from a NLZ in The Bronx
Q. Why do I have a NLZ on my block?
A. As more delivery vehicles due to the rise of e-commerce, and for-hire vehicles accessing residential streets, vehicles have been double parking, blocking bike lanes, and bus stops. NLZ aims to provide a safe space for any vehicle to access the curb to perform their pick-up/drop-off activities.
Q. How does NYC DOT select a corridor to place an NLZ?
A. Generally, we prioritize placement on narrow residential corridors with increased commercial activity that are also designated bike lanes and bus routes. We also consider feedback from community stakeholders as part of our analysis.
Q. Can I use the NLZ to drop off my groceries?
A. Yes, NLZs allow both commercial and personal vehicle use. Anyone can pick-up/drop-off goods and passengers from the zone.
Q. Would NLZ increase truck traffic to my block?
A. NLZs alleviate unwanted parking behavior created by existing vehicle traffic on the block. We do not anticipate increase of truck traffic due to NLZs.
Q. Can I park in the NLZ overnight and during the weekends?
A. Most NLZs are in effect from Monday to Friday, 7am - 7pm unless otherwise noted (Staten Island and Manhattan may have different timeframes). Vehicles can park while the zones are NOT in effect.
Q. Where can I report vehicles parked in NLZs long term?
A. Please report any illegal parking issues to 311 by accessing the 311 website, or calling 311.
Q. How do I request a NLZ on my block?
A. As we continue to expand the size of the program, we appreciate constructive feedback. If you have any suggestions, please let us know by contacting us here.
Q. My car received a ticket before the regulation switched to NLZ. What do I do?
A. NYC DOT does not issue parking summonses. Per the NYC Traffic Rules, there is a grace period of five working days for vehicles to be in compliance with any updated curb regulations. If you believe your vehicle received a ticket, or was towed during the five-day grace period, please contact 311 by accessing this page, or calling 311.