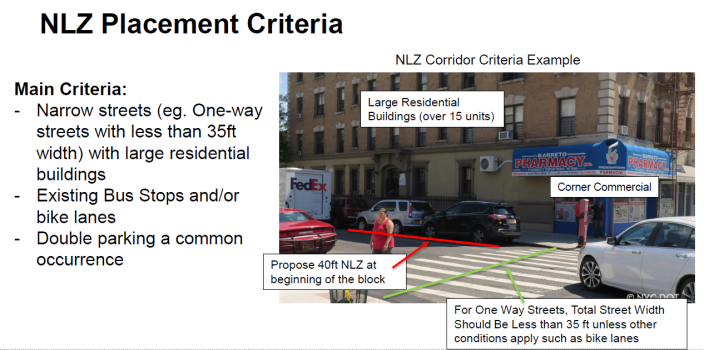 NYC DOT has created a list of criteria that we believe the NLZs will work best in. We are focusing the placement of NLZs in certain street types where we believe they will fit in best with the need of the community throughout the city. When you make suggestions through our interactive map, please keep in mind our list of criteria for effective placements. This does not mean we are not considering any locations that may not fit our criteria, please be specific on the comments if you feel strongly about a certain location.
1. Narrow residential streets (with bus route or bike lane)
NLZs work best in narrow residential streets where vehicles have trouble maneuvering around double parked vehicles. A lot of residential streets are too narrow for vehicles to safely pass a double parked vehicle without moving into the opposite lane, entering bike lanes, or other maneuvers that may endanger themselves and others. We are especially looking at streets with bike lanes and/or bus routes to place NLZs in for additional safety for cyclists and improved bus travel experiences.
2. Large residential buildings or retail stores on the corner
NLZs are usually placed either in front of a large residential building, or on the corner of the block near a retail store. We've identified these two types of locations to be most fit for NLZs due to the demand generated by commercial retailers and large residential buildings. 
3. Double parking has been an issue
One of the main goals of the NLZs are to reduce double parking in residential streets. We want to focus our expansion into streets that have seen a lot of double parking occurring throughout the days to eliminate or reduce double parking in the streets.