Project Overview
NYC DOT is making Jay Street, between Tillary Street and Livingston Street, a busway, limiting traffic to buses, trucks, bicycles and local access only.
Signs will direct northbound and southbound passenger vehicles to use alternative routes, and Bus and Truck Only pavement markings will be installed.
The primary goal of the project is to reduce congestion and improve bus speeds and reliability, benefiting passengers using seven bus routes to access Downtown Brooklyn from many parts of the Borough.
The Jay Street Busway Pilot is part of Better Buses Restart. NYC is speeding up implementation on bus projects citywide to provide faster and more reliable bus service for essential workers and communities impacted by COVID-19.
The project will:
Increase bus speeds and bus reliability along the corridor
Serve seven routes that carry 46,000 passengers per weekday
Help improve travel times for vulnerable communities and essential workers
Create a complete street that improves bicycle and pedestrian safety
Ease congestion on designated truck route
Reduce the impact of illegal parking
How it works:
Buses, trucks, and bicycles only permitted to enter Jay Street from north and south
Local access from east and west
Johnson Street converted to one-way eastbound to provide local access
Smith Street/Jay Street protected bicycle lane maintained and enhanced
Increase parking enforcement and update curb regulations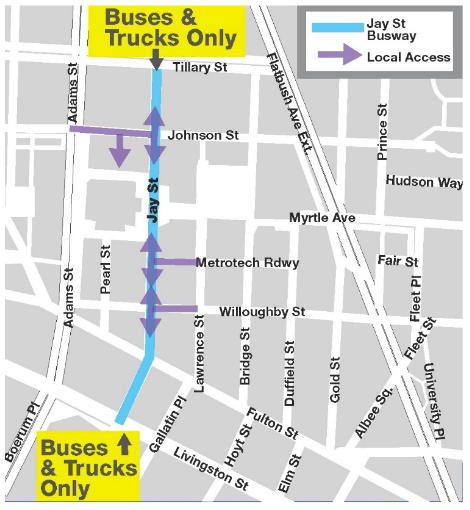 FAQs:
Q. Why is the City installing a busway on Jay Street?
A. Jay Street between Livingston Street and Tillary Street hosts seven bus routes carrying 46,000 passengers. Jay Street is often congested and creates a bottleneck for buses. Midday speeds averaged 3.4 MPH. in Fall 2019 Limiting traffic will improve bus travel times, making for faster and more reliable travel for bus passengers.
Q. Will this cause congestion on other streets?
A. The majority of diverting cars will use major parallel north-south corridors of Boerum Place/Adams Street and Flatbush Avenue, which can handle much more traffic than Jay Street. We will be monitoring traffic changes to nearby streets after implementation to identify potential issues.
Q. How will illegal placard parking be addressed?
A. This pilot provides an opportunity for a coordinated effort to enforce illegal placard parking, which takes up valuable curb space and results in double parking. In addition, DOT will evaluate curb regulations and adjust where appropriate.
Q. Will Willoughby Street and Lawrence Street Shared Streets/Open Streets be impacted by the busway project.
A. Portions of Lawrence and Willoughby Streets will serve as an access route to Jay Street for a small number of vehicles. This is compatible with the Willoughby Shared Street. We will be evaluating whether it is feasible to maintain those street segments as Open Streets.
Q. Will there be restrictions on how local traffic can leave Jay Street?
A. No. Cars can exit the corridor in the most direct way possible, which may include to the south via Smith Street/Livingston Street, or to the north via Jay Street/Livingston Street.
Q. What if I want to catch a ride with a for hire vehicle on Jay Street?
A. Taxis, Ubers, etc, will be subject to the same regulations as other automobiles and will need to approach from the east or west to pick up passengers.
Community Outreach:
DOT is committed to public engagement throughout this one year pilot
A Community Advisory Board will guide the pilot during and after implementation
After Implementation: DOT will monitor traffic and make adjustments to the Busway as needed