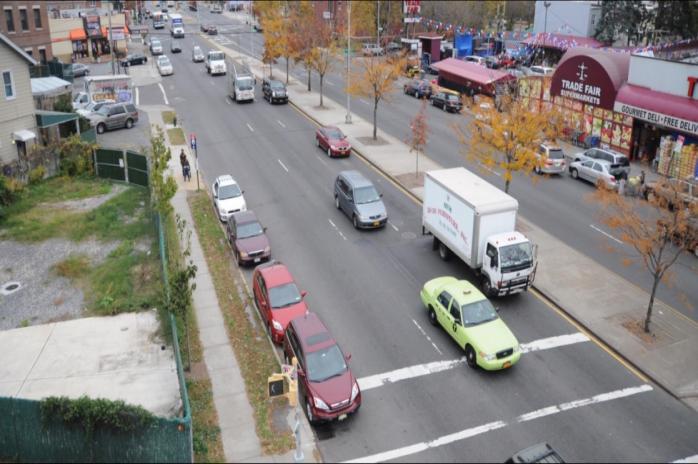 The Department of Transportation is working to improve safety along Astoria Boulevard between 77th Street and Ditmars Boulevard. We are working to redefine the street as a neighborhood boulevard to connect local residents rather than an extension of the highway. The changes will provide more direct, safer opportunities to cross the street, calm the corridor, and connect the boulevard to the surrounding neighborhoods.
Why we are here:
The community, supported by council members Julissa Ferreras-Copeland and Costa Constantinides, have asked for safety improvements along Astoria Boulevard.
Astoria Boulevard is located within a Vision Zero Priority Area and intersects 81st St, 82nd St, 90th St, and 108th St, all of which are Vision Zero Priority Corridors.
Current Safety Problems:
Astoria Boulevard is in the top 10% of Queens corridors for severe injuries and fatalities per mile.
From 2010 to 2014, 465 persons were injured along this 1.8 mile long stretch of Astoria Boulevard. 20 people were either killed or severely injured and more than half of those killed were pedestrians.
Speeding on Astoria Boulevard is widespread. A recent DOT study found that 60% of drivers traveling west and 69% of drivers headed east were speeding.
Crossing the street is difficult. There are large distances between crosswalks and many of the crosswalks that do exist are both long and indirect.
Astoria Boulevard has many irregular intersections which create unclear and long crossings for drivers and pedestrians.
What is Happening:
In spring 2015, DOT presented a proposal for Astoria Blvd from 99th St to 105th St. The proposal was approved by Community Board 3.
In winter 2016, DOT presented additional proposals for 77th St to 79th St as well as for 105th St to Ditmars Boulevard. These proposals were approved by Community Board 3.
Starting soon, changes will be made to Astoria Boulevard to enhance safety for all road users.
What Changes Will I see? 
New signalized intersections allow pedestrians to cross the street at desired locations and reduce the distances between crosswalks

Where?

100th Street
31st Avenue and Humphries Street

Enhanced medians provide safe places for pedestrians to stand while crossing the street

Where?

99th Street
101st Street
105th Street

Clearer Intersection Geometry will standardize irregular intersections and shorten crossing distances, making vehicular movements more predictable and crossing easier, enhancing safety for both vehicles and pedestrians

Where?

79th Street
99th Street and 27th Avenue
Kearney Street and 101st Street
McIntosh Ave and 29th Avenue
Ditmars Boulevard

Left Turn Bays allow for safer left turns and keep traffic moving smoothly.
Upgraded Markings enhance visibility and safety for all users of Astoria Boulevard
Parking Regulation Changes reduce the highway like feel of the corridor, calm traffic, and provide additional parking
For more detailed information about proposed or approved changes, see the presentation documents page.
What is Next:
The Department of Transportation is developing strategies to enhance safety on Astoria Boulevard between 79th and 99th Street and we need your help to redefine it as a neighborhood boulevard, rather than an extension of the highway.
Use our online feedback map to identify locations for safety improvements, areas of congestion, unclear intersections, points of conflicts, places you want to be able to cross but cannot, and any other issues that you have along Astoria Boulevard.
Expect to see a plan for the remaining portion of Astoria Boulevard, based on your feedback, later in 2016
Continue to check our feedback portal for updates on meetings and new information, which will be posted when available.