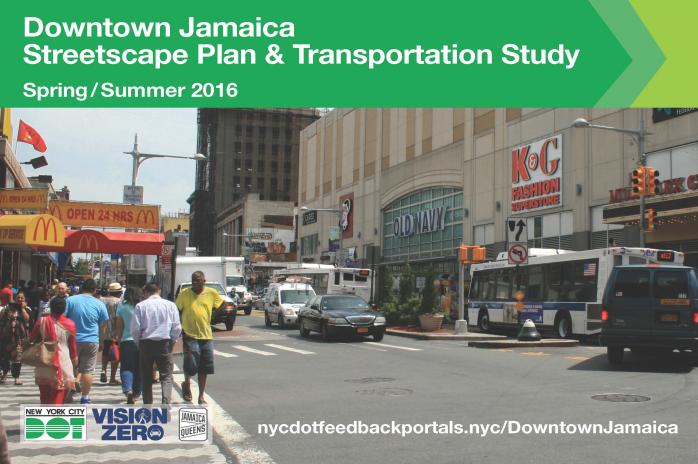 In partnership with Queens Borough President Melinda Katz and the Jamaica Now! Neighborhood Action Plan Leadership Council, the NYC Department of Transportation (NYCDOT) would like to announce The Downtown Jamaica Streetscape Plan & Transportation Study.   A critical goal of the effort is to build a Streetscape Plan and comprehensive Transportation Study that is community driven and prioritizes locations for capital investment throughout Jamaica.  Concurrent with public feedback and comments, DOT will be evaluating existing vehicular and pedestrian conditions, lighting, traffic congestion and transit passenger waiting areas to address issues people face each day.  DOT will be developing design concepts for each focus area based on community feedback and transportation analysis. The visions for a new Downtown Jamaica Streetscape will be unveiled in Fall 2016 at a public workshop. 
The existing conditions analysis for both studies will be completed by September 2016 and short-term recommendations from the transportation study will be released simultaneously.  The streetscape study with a urban design conceptual plan will be completed by December 2016; and the transportation study will be completed in Spring 2017 with long-term recommendations.
Please keep up with current DOT Jamaica events, take a survey and provide a site specific comment on this an interactive website. Help us identify the intersections, sidewalks, and corridors that have problems/issues that you would like NYCDOT to address.  Use the online map to pinpoint the location of the problem/concern which could range from inadequate lighting, speeding, insufficient pedestrian crossing time, benches needed, overcrowded sidewalk, etc.  Your input will help to shape the improvement measures that will constitute the recommendations for both studies.
Give us your ideas for our Streetscape Input Map.
Give us your traffic input on our Traffic Input Map.