The New York City Department of Transportation (NYC DOT) thanks you for interest in providing feedback. This feedback will help inform planners on appropriate next steps to make the City a safer place to travel in.
Please use the following guide to help you through the process of leaving feedback on our maps. There are GIFs provided that help visualize the process. Please note that the GIFs depict a specific map relating to Citi Bike, but the steps can be used on any of our maps.
Navigate towards the top-left section of the map where it says "To add your comments". Then, choose the most relevant comment category for your comment. 

Right next to the the "To add your own comments" drop down, there will be another drop down "How do you want to submit your comment". You can choose whether to use the map to drop a pin, or use a form.​​​​​​ The form option is useful for people who are blind or have low-vision.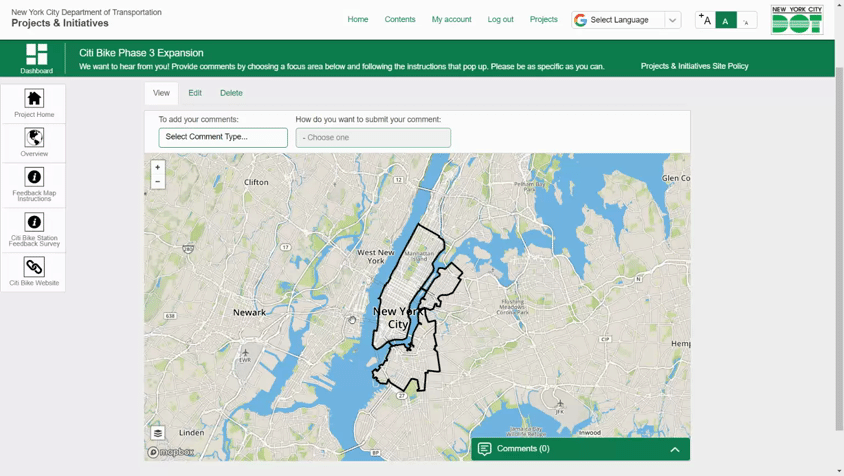 Comment! - via Map
Click the flashing icon on the upper right side of the map, and place the marker on the location you'd like to give feedback. For this example, we will place the marker down at East 125th Street & 1st Avenue in Manhattan. 

A pop up will ask if you want to go to StreetView. StreetView can help highlight a specific location by adjusting the field of vision. In this example we will go to Street View: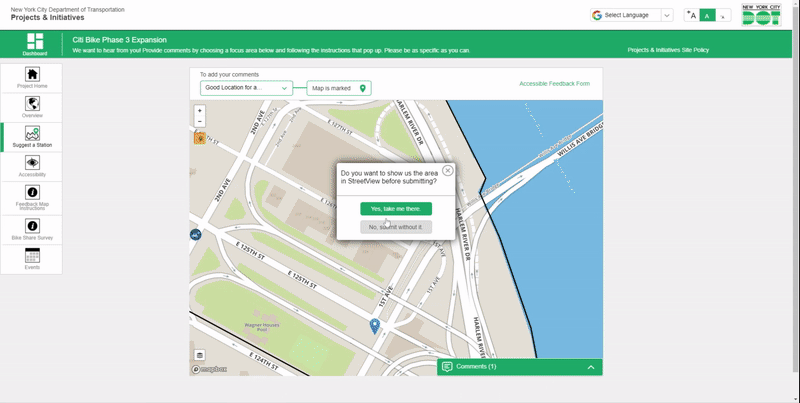 When adding a comment, please include any relevant information. The more details the better! Afterward, remember to agree to the website's policy and click submit. There may be a slight delay until the page refreshes and your comment gets added.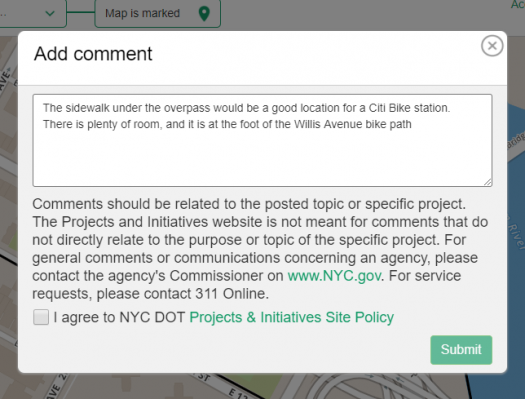 Comment! - via Form
A form will drop, covering the map. Please fill out all questions.

After typing the most appropriate street/avenue, click "Get Cross Streets" and click the street/avenue that you want to give feedback on. 

Click "Get Cross Streets" again, and a list of intersecting streets/avenues will drop down.  Enter your comment as normal and remember to agree to the website's policy. 

If the street/avenue does not pop up, it may be out of the boundaries of the map or the street/avenues you are thinking of do not intersect. Please double check the cross streets.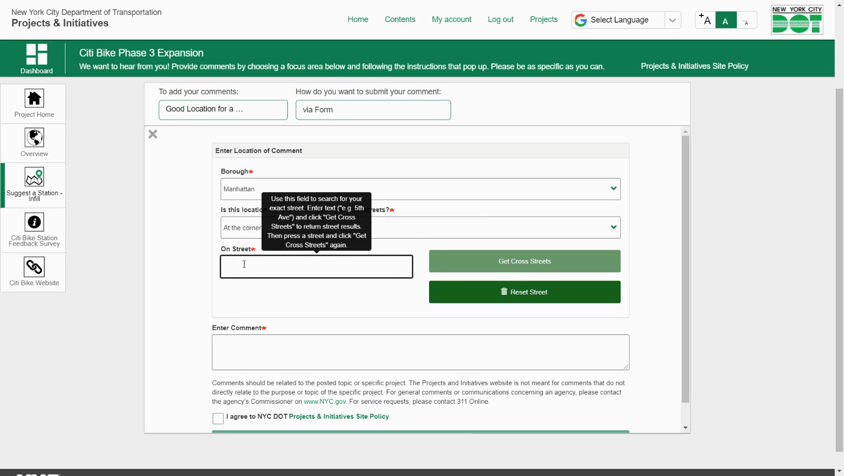 Please, feel free to go through the steps again to leave as many comments as you'd like. We appreciate you taking the time out to make your City safer!