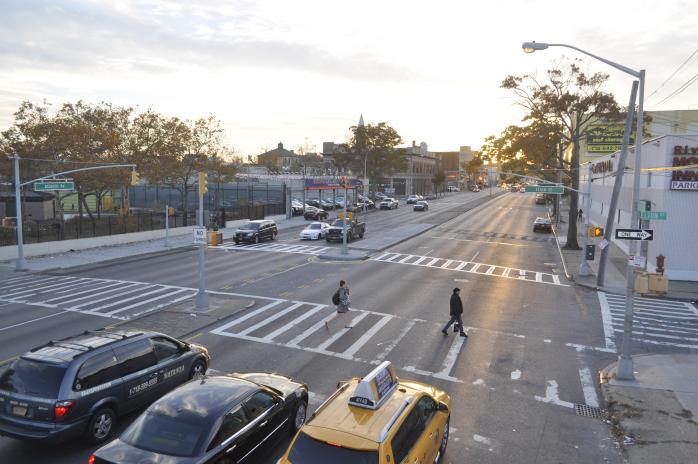 The Department of Transportation is working to improve safety along Atlantic Avenue between Georgia Avenue and Rockaway Boulevard. Over the next few years, we will be implementing a two-phase project to comprehensively overhaul Atlantic Avenue to make it a much safer corridor for all road users. 
Why we are here:
The community has been asking the Department of Transportation to make improvements to Atlantic Avenue to enhance safety
Atlantic Avenue is a Vision Zero Priority Corridor
Atlantic Avenue is part of Mayor Bill de Blasio's Great Streets Initiative, in which we focus on bringing safety improvements to wide, dangerous streets throughout all 5 boroughs.
Current Safety Problems:
Top 10% of Brooklyn streets for severe injuries and fatalities per mile
79 persons killed or severely injured along 2.4 mile long corridor in a 5 year stretch, 27 of whom were pedestrians.
The roadway is extremely wide. Pedestrians have to cross six lanes of traffic and two lanes of parked cars!
The medians in the road are narrow and unsafe for pedestrians who need to wait in the middle of the street with a red light
Pedestrians cross the street at locations that are convenient for them, but some of these locations do not have crosswalks or signals
Turning cars block the flow of traffic, forcing cars to change lanes dangerously and aggressively
Confusing, abnormal intersections create unpredictable conditions that endanger both drivers and pedestrians.
What is Happening:
A two phase project

Phase one (approved unanimously in December 2015) is from Georgia Avenue to Logan Street

Construction is scheduled to start in 2017

Phase two is from Logan Street to Rockaway Boulevard

Plans are in development and proposals should come to Community Boards in 2016
Construction is scheduled to start in 2018

What Changes Will I see?

Larger medians with protected crossings, traffic calming design elements with separate left turn lanes, turn bans, and signal timing changes to enhance safety.
New high visibility crosswalks so that pedestrians can safely cross at more locatoins along the street
Street and sidewalk reconstruction and enhancement to make walking and driving along the street more pleasant
What's Next?
Use our feedback map to tell us where there are currently issues that affect you as a pedestrian, cyclist or driver. We will use this feedback to help us develop our final proposal for the corridor.
Take our online survey to let us know how you currently are using Atlantic Ave as a pedestrian, driver, or cyclist
Continue to periodically check our feedback portal for updates on meetings and new information, which will be posted when available.
A proposal for Phase II should be expected later in 2017
Construction is expected to begin on Phase I later in 2017