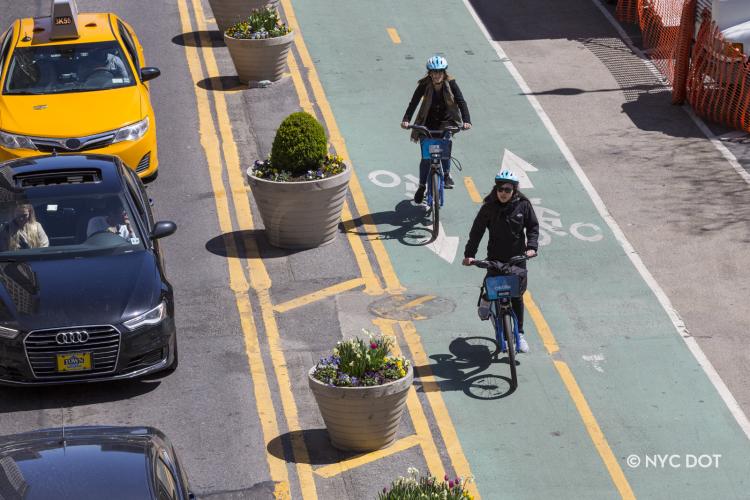 Citi Bike Phase 3 Overview
What is Citi Bike Phase 3?
Citi Bike is the largest and most successful bike share system in the Western Hemisphere. The program is part of a public-private partnership between the City of New York and Lyft, a transportation network company. Citi Bike is a station based bike share system. Bikes are unlocked from one station and returned to any other station in the system, making bike share ideal for short, one way trips. Since the program launched in 2013, riders have taken over 100 million trips. 
In July 2019, Mayor Bill de Blasio announced the details the program's growth, known as Phase 3. Phase 3 will double the program's service area and triple the number of bikes to 40,000. This growth includes two distinct but related efforts: expansion, the process of bringing Citi Bike to new parts of New York City and expanding the service area, and infill, the process of increasing capacity by adding stations and docks to the existing service area.
Please see the press release for more details about Phase 3 expansion. 
What neighborhoods are included in the expansion?
Here are some neighborhoods Citi Bike will be expanding by 2024:
Manhattan: Upper Harlem, Washington Heights, Inwood

Bronx: South Bronx, Morrisania, University Heights, Belmont, Fordham

Brooklyn: South Slope, Sunset Park, Bushwick, Flatbush, Brownsville

Queens: Sunnyside, Woodside, Ridgewood, Elmhurst, Corona
Please know that this is not a full list of neighborhoods. This map shows the full extent of the system's expansion. 
As we plan the expansion, we need your help! A feedback map will be available for the each community board in the expansion area. You can pinpoint places where you'd like to see a Citi Bike station, as well as areas not suitable for a station. Maps can be found in the left-hand menu. Please note, at certain times in the planning process you may not see the the map in the menu or the map may be closed for commenting. 
What is Phase 3 Infill?
As the system grows to reach more New York City neighborhoods, demand in the system's core (particularly Manhattan south of 60th Street) increases. Infill will improve system density and increase capacity, enabling more Citi Bike trips for more New Yorkers regardless of where they start or end their Citi Bike trip. 
As we plan infill, we need your help! A feedback map is available on the left-hand menu, titled "Suggest-a-Station - Infill." In this map, please let us know where more capacity (either by extending existing stations or adding new ones) would improve your Citi Bike experience and create more rides. 
For more information about bike share in NYC, please visit our website at nyc.gov/bikeshare.