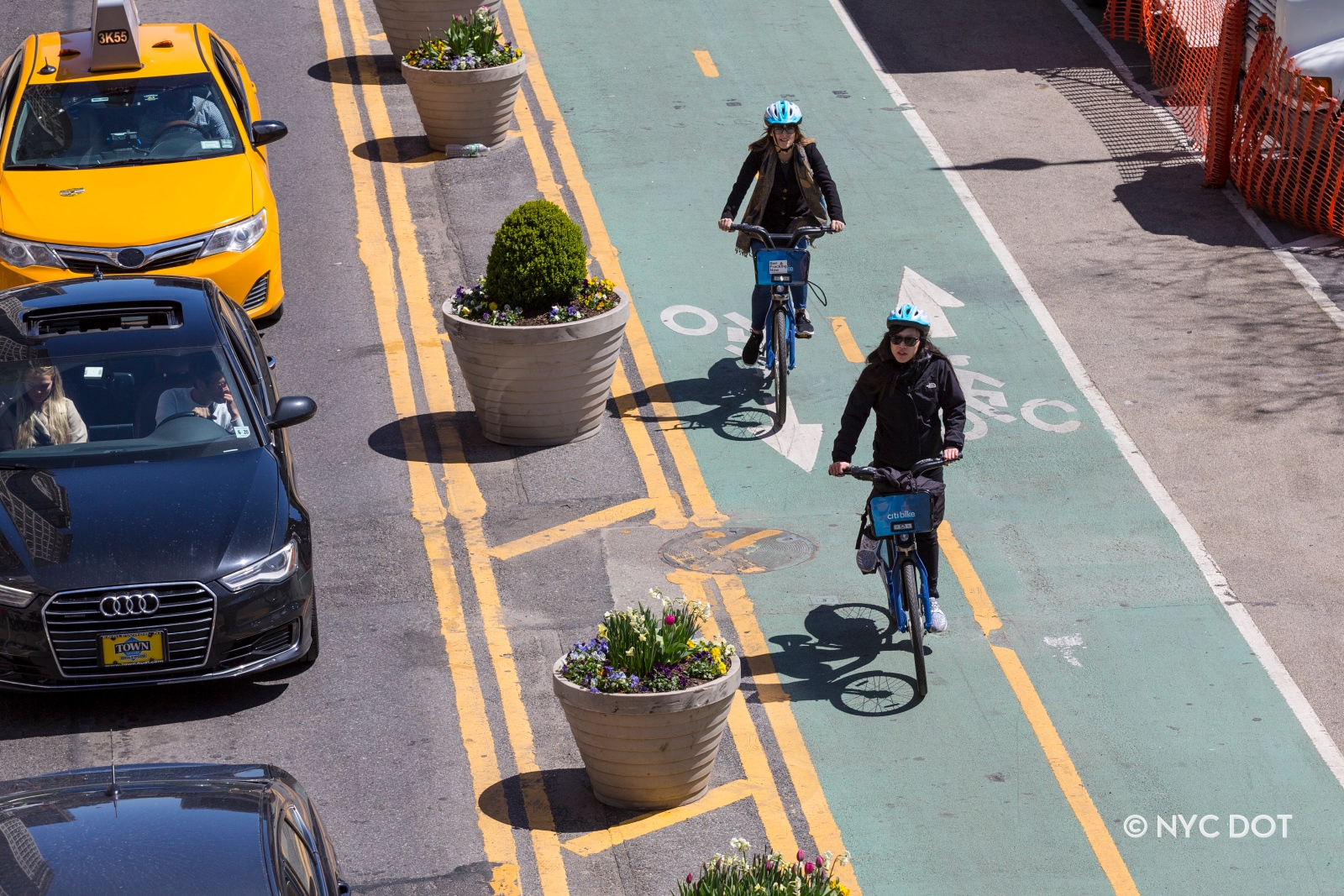 Bike Share Overview
What is Bike Share?
Bike share is an easy, affordable mode of transportation allowing users to make trips using sturdy, publicly available bikes. New York City's current bike share system, Citi Bike, is part of a public-private partnership with Lyft. Citi Bike is a station based bike share system. Bikes are unlocked from one station and returned to any other station in the system, making bike share ideal for short, one way trips.
How does bike share work?
Bike share is designed for short point to point trips.
Riders are limited to short lengths of time, typically 30 - 45 minutes depending on the bike share rental trip type. This ensure that bikes are available for as many users as possible throughout the day. Bikes may be kept out for longer rides, but extra fees will apply. As cities all over the world have discovered, bike share programs are used by a wide range of people for a variety of trips. In New York, the majority of trips are under two miles long, making bike share a useful and enjoyable way to get around town.
Why does New York need bike share system?
Bike share provides New Yorkers with another option for getting around the City. A majority of all trips made in the City are less than two miles. Bike share gives New Yorkers a cheap, easy, efficient, and quick option for these trips by providing easy access to a bike, without having to worry about storage or maintenance.
Bike share also leverages the City's great mass transit system by extending the reach of transit into areas that don't have great subway coverage. Fifty percent of Citi Bike trips are made to get to or from a public transit station. As Mayor de Blasio has said, "Citi Bike has become part of our public transportation system."
Where is Citi Bike expanding to?
In July 2019, Mayor de Blasio announced the details of the Phase 3 expansion. The expansion will double the program's service area and triple the number of bikes to 40,000. The expansion began in Bushwick and East Williamsburg in April 2019. This fall, the expansion continues further into Bushwick and Ridgewood.
NYC DOT is currently starting the outreach process for the next areas of expansion. The areas are:
Manhattan Community Board 9 - From 130th to 155th
Manhattan Community Board 10 - From 130th to 155th
Bronx Community Board 1
For more information about bike share in NYC, please visit our website at nyc.gov/bikeshare.