Join DOT at a local community event happening near you. As part of the Big Jump, DOT will work with community partners to create programming in the neighborhoods of Jackson Heights, Corona, Elmhurt, and Elmhurst.
Know of an event going on? Email us at bigjump@dot.nyc.gov
Get involved! Join our mailing list for more information on events, project updates, and community meetings. Sign up here.
Event  NYC Plaza Program 10 Year Celebration
Date   July 14, 2018, 11AM
Location  Corona Plaza, Queens
Description Join NYC DOT Commissioner Trottenberg to celebrate 10 years of the NYC Plaza Program at the newly opened Corona Plaza in Queens. The event will feature information from our partners, live performances 💃, and food 🍴! New amenities will include tables and seating, bike racks, and public art. Bike parking is a common requests we receive during outreach.
_________________
Event  Queens North Bike Bonanza
Date   July 14, 2018, 11AM - 2:30PM
Location  Frank O'Conner Playground, Elmhurst
Description As part of a Parks Build Healthy Communities grant, Jackson Heights Beautification Group and Make Queens Safer will be the hosts for a DOT helmet fitting and giveaway, a Bike New York Learn to Ride Class and a bike swap/repair session. Learn more about safety, group rides, mountain biking and track bike riding, and specific groups for women and latinos. For updates visit FB. 
_________________
Event  Bike Film Festival for New York
Date(s)   June 19-24 2018
Location  Anthology Film Archives, 32 2nd Ave, New York, NY
Description The Bicycle Film Festival is a platform to celebrate bicycle through music, art, and of course, film. Ticket purchase is necessary. Check out the 2018 NY Program. 
_________________
Event  Big Jump Mobile Workshops
Date 1   Monday, June 18, 2018
Date 2   Wednesday, June 20, 2018
Location Queens Center Mall, 90-15 Queens Blvd, Queens, NY 11373, By the escalator in front of JC Penny
Time  1:00 PM - 4:00 PM
Description NYC DOT NYC DOT will hold pop-up workshops in Big Jump neighborhoods to discuss different levels of bicycle network protection and provide an opportunity for input from residents. Stroll on by we'd like to hear from you!
Contact: bigjump@dot.nyc.gov
_________________
Event  Queens Community Board 3 Health Fair
Date    Saturday, June 9, 2018
Location Corona Health Center, 34-33 Junction Blvd, Corona, NY, 11368 
Time  10:00 AM - 3:00 PM
Description CB3's annual health fair which includes raffles, giveaways, entertainment, and free screenings. Stop by NYC DOT's table for bike maps, giveaways, and updates on the Big Jump.
Contact: 718-458-2707 (CB3)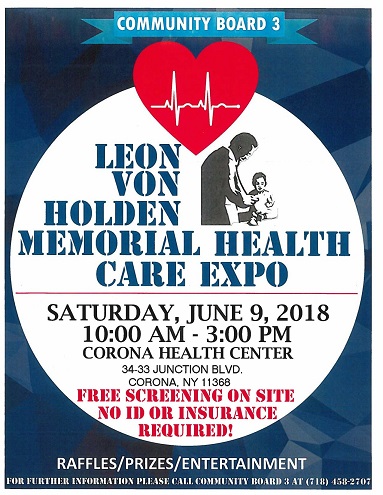 _________________
Event  Big Jump Community Advisory Committee (CAC) Meeting
Date    Wednesday, April 25, 2018
Location Elmhurst Hospital, 79-01 Broadway Ave, Room A1-22, 1st Floor, Elmhurst, Queens, NY
Time  6:30 PM - 8:30 PM
Description NYC DOT will hold the second Community Advisory Committee meeting for Big Jump and we are inviting local residents, community organizations, city agencies, and elected officials to discuss next steps for this project and provide updates on where we are. We hope you can join. If you would like to attend please RSVP.
Contact: bigjump@dot.nyc.gov
_________________
Event  Get Pumped! - Jackson Heights
Date    Sunday, October 22, 2017
Location 78th St Plaza, 34th Ave & 78th St.
Time  10 AM – 6 PM
Description NYC DOT launched Get Pumped! Pop Up Commuter Assistance Stations as part of the #biketoberfestnyc cycling promotions in October. Find bike maps, bells, lights, and information at our Get Pumped! stations. Learn about the bicycle program and tell us what you think! There will be free bike tune ups provided by Mechanical Gardens and a guided bike ride starting at 1 PM from the station.
_________________
Event  Queens Hispanic Day Parade
Date    Sunday, September 24, 2017
Location 37th Avenue from 69th St. to 86th St.
Time  12 PM - 5 PM
_________________
Event  Carnaval de la Cultura Latina
Date    Sunday, September 17, 2017
Location Junction Blvd., between Roosevelt and 37th Avenue
Time  12 PM - 6 PM
_________________
Event  Jackson Heights Greenmarket
Date    Sunday, August 6, 2017
Location 34th Ave at 78th St, Queens, NY 11101
Time  9AM - 3PM
_________________
Event  Queens Pride Festival
Date    Sunday, June 4, 2017
Location 75th St and 37th Rd., Queens, NY
Time  11AM - 5PM
_________________
Event  Queens CB 3 Health Fair
Date    Saturday, June 10, 2017
Location Corona Health Center, 34-33 Junction Blvd. Corona NY 11368
Time  10 AM - 3 PM