What is a Busway?
Busway Basics
A busway prioritizes bus travel by restricting other traffic traveling through a corridor.
Typically:

Only buses and emergency vehicles are allowed to drive from end to end along the busway

Other vehicles are allowed to turn onto the busway for local access. These vehicles must make the next available turn off the street.

Thorough evaluation of curb regulations to match local needs

Thorough monitoring of bus and traffic operations

Opportunity for pedestrian and other modal safety improvements
Example Busways
14th Street, Manhattan
Thru traffic on 14th Street between 3rd Ave and 9th Avenue is restricted to buses and trucks

Local access is permitted. Vehicles must make next right turn off the corridor

Changes have resulted in significant gains for bus riders:

24% improvement in bus travel times, saving almost 3 minutes on average

Ridership increased 14%

While side streets saw slight increases in traffic volume, vehicle travel times minimally impacted (<1 minute)

Project was implemented in October 2019 and made permanent in June 2020
What is a "Complete Street?"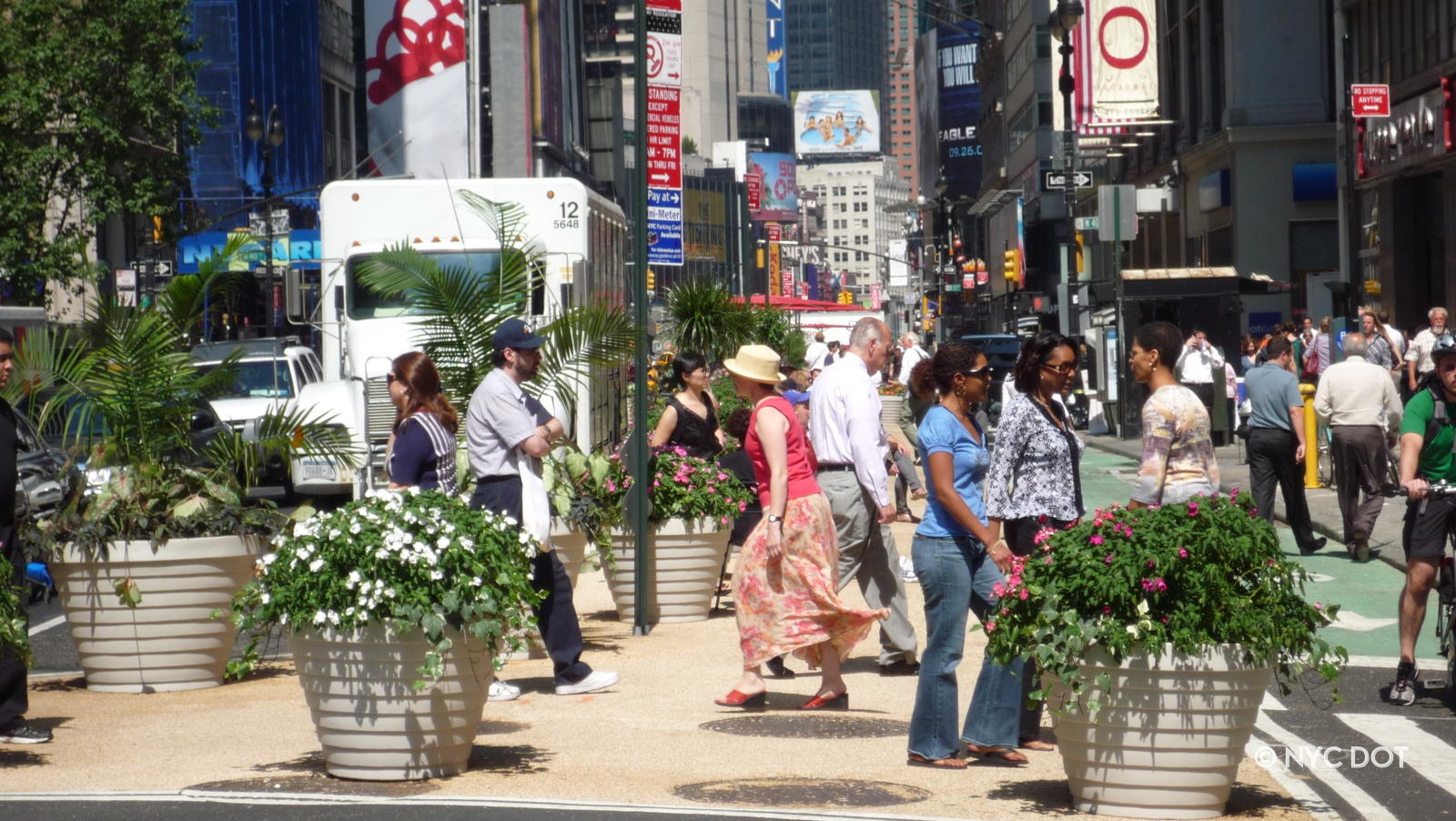 Complete Streets are streets designed and operated to enable safe use and support mobility for all users. Those include people of all ages and abilities, regardless of whether they are travelling as drivers, pedestrians, bicyclists, or public transportation riders. The concept of Complete Streets encompasses many approaches to planning, designing, and operating roadways and rights of way with all users in mind to make the transportation network safer and more efficient. Complete Street policies are set at the state, regional, and local levels and are frequently supported by roadway design guidelines.

Complete Streets approaches vary based on community context. They may address a wide range of elements, such as sidewalks, bicycle lanes, bus lanes, public transportation stops, crossing opportunities, median islands, accessible pedestrian signals, curb extensions, modified vehicle travel lanes, streetscape, and landscape treatments. Complete Streets reduce motor vehicle-related crashes and pedestrian risk, as well as bicyclist risk when well-designed bicycle-specific infrastructure is included (Reynolds, 2009). They can promote walking and bicycling by providing safer places to achieve physical activity through transportation. One study found that 43% of people reporting a place to walk were significantly more likely to meet current recommendations for regular physical activity than were those reporting no place to walk (Powell, Martin, Chowdhury, 2003).
Other sources:
What is a Community Advisory Board (CAB)?
NYC DOT formed a Community Advisory Board (CAB) to give input on the project. CAB members include:
Elected officials

Nonprofit and community organizations

Government agency representatives

Advocates

Bus Riders