As part of the Better Buses Restart program, NYC DOT is installing a southbound busway on 5th Avenue in Midtown Manhattan from 57th Street to 34th Street. The goal of this busway is to improve bus speeds and reliability for over 40 local and express bus routes extending across all five boroughs and serving over 110,000 daily riders. Buses, emergency vehicles and local access for private vehicles will be allowed. Implementation of the busway and other street improvements is scheduled to begin this summer and will be evaluated as a 12-month pilot.
Data Collection & Feedback
Project Updates
Friday, July 31, 2020 - 14:39
NYC DOT presented preliminary design proposals for the 5th Avenue Busway Pilot to the 5th Avenue Community Advisory Board (CAB) on July 28, 2020.   Overview Limit southbound through travel to buses, bikes and emergency vehicles All traffic must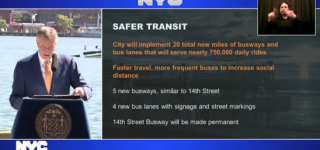 Friday, July 31, 2020 - 09:32
NYC is speeding up implementation on bus projects citywide to provide faster, more reliable bus service for essential workers and communities impacted by COVID-19.