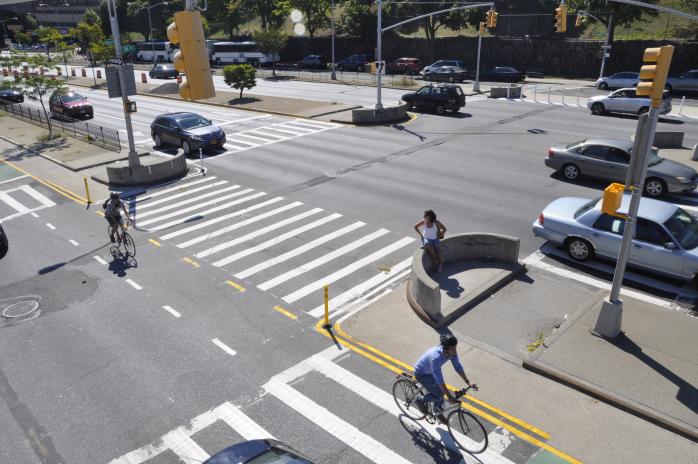 Project Overview
The Department of Transportation is in the middle of an redesign along seven miles of Queens Boulevard. Queens Blvd is a Vision Zero Priority Corridor as part of the de Blasio Administration's Great Streets initiative. DOT completed the first phase of the operational project in 2015. Phases 2 and 3 were completed in 2016 and 2017. DOT is currently planning the next operational phase in Forest Hills. Besides analyzing crash data, DOT is asking for the public's feedback. 
---
Project Phasing
Each section will go through an operational project followed by a capital project. Operational projects are fast, effective ways for DOT to make temporary, in-house improvements to the street. The DOT uses materials like paint, gravel, and flexible delineators for operational projects. Capital projects take more time to plan and install, but they create more permanent improvements. New curbs and surfacing will be added, along with new trees, plantings, street lighting, etc.
DOT will pursue project phasing for the following sections of Queens Boulevard:
Phase I - Roosevelt Avenue to 73rd Street
- Operational project completed in 2015.
- Capital project to be implemented in 2019.
Phase II - 73rd Street to Eliot Avenue
- Operational project completed in 2016.
Phase III - Eliot Avenue to Yellowstone Boulevard
- Operational project completed in 2017.
Phase IV - Yellowstone Boulevard to Union Turnpike
- Operational project to be completed in Summer of 2018. 
---
Outreach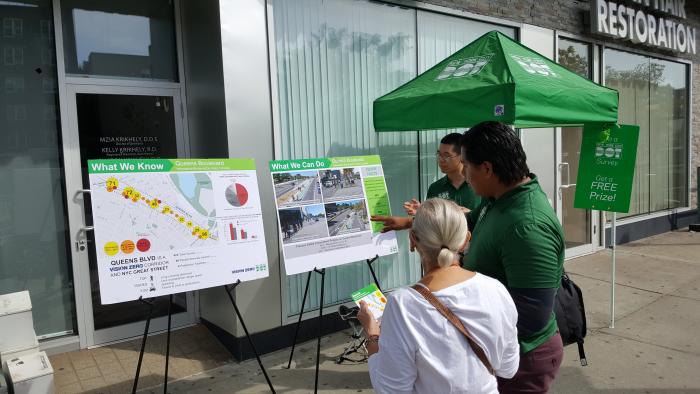 There is a clear and present need for safety improvements along Queens Blvd. It is in the top ten percentile of traffic injuries and fatalities for streets throughout Queens. Check out our Presentations & Data page to learn more background on Queens Blvd. In addition to analyzing these figures, DOT wants to know about your personal experiences on Queens Blvd. DOT needs to hear from pedestrians, motorists, and cyclists. DOT collected data through workshops and surveys. DOT also deployed to various locations within each of the neighborhoods. Such locations included libraries, community centers and directly on Queens Boulevard. Through the Street Ambassador unit, DOT will inform, educate, and listen to the public about improving Queens Blvd. Check out our Outreach & Events page to see our past events and take part in future ones.