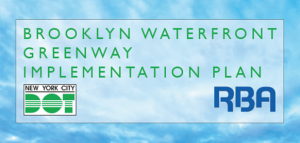 We are pleased to announce that the final Brooklyn Waterfront Greenway Implementation Plan is now available online. This plan is the culmination of years of work by a wide array of organizations and would not have been possible without their input.
Brooklyn Waterfront Greenway Implementation Plan

With the Brooklyn Waterfront Greenway, NYCDOT seeks to combine the tradition of Olmsted's vision of leafy green tree-lined boulevards with the new paradigm of on-street bicycle and pedestrian paths. The route will pass through a variety of urban landscapes from historic neighborhoods to working industrial areas to dynamic new waterfront parks.When completed, the Greenway, will consist of 14 miles of designated off-street pathways, enhanced sidewalks, and some on-street bike lanes, connecting the waterfront neighborhoods of Greenpoint, Williamsburg, the Brooklyn Navy Yard, Vinegar Hill, DUMBO, Downtown Brooklyn, Red Hook and Sunset Park.The designated paths for bicycles and pedestrians will allow cyclists and walkers to commute, exercise, explore, and relax along the Brooklyn waterfront from Newtown Creek to the Shore Parkway.