Destination: Greenways!
This conceptual study focuses on creating an improved greenway experience within New York City parks so that greenways are not simply connections between places, but also enjoyable destinations in themselves. The two concept plans propose design solutions to create continuous, safe, and enjoyable greenways for all New Yorkers. Extensive community engagement helped inform the proposed improvements along the routes – one along the waterfront in southwest Brooklyn and the other connecting parks in central and eastern Queens. NYC Parks developed the concept plans in close partnership with the New York City Department of Transportation to propose safe on-street connections between these park segments. The conceptual study was completed in Fall 2021 and presented in community report-back sessions in February 2022.
Destination: Greenways! Conceptual Plan for Brooklyn (pdf)
Destination: Greenways! Conceptual Plan for Eastern Queens (pdf)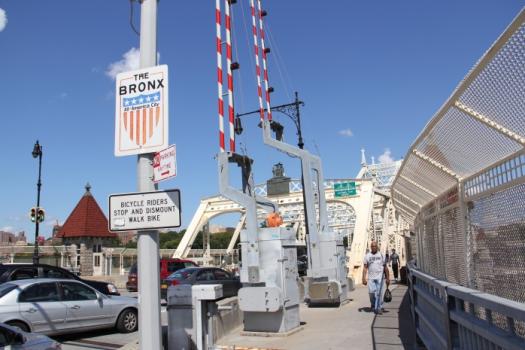 Beginning in the summer of 2015, the New York City Department of Transportation's Office of Bicycle and Pedestrian Programs has led a community-driven planning process to increase pedestrian and bicycle safety and mobility between Manhattan and the Bronx across 13 Harlem River bridges. Through workshops, surveys, and mobile outreach, combined with technical analysis, NYC DOT is identifying community preferred transportation improvements to create a continuous cross-borough user experience, incorporating bridge paths, approaches, wayfinding and lighting. The final product of this process, the Harlem River Bridges Access Plan, will be a planning document used to guide future investment and seek funding for capital projects.
Stakeholder and Public Involvement
The planning process includes three series of DOT-led community workshops, with two workshops on each side of the Harlem River, for a total of 12 workshops. DOT Street Ambassadors have been conducting on-bridge outreach throughout the planning process.
Project Area
The Access Plan addresses neighborhoods on both sides of the Harlem River within roughly one mile of 13 Harlem River bridges. The study area includes sections of Community Boards 9, 10, 11, and 12 in Manhattan and Community Boards 1, 4, 5, 7, & 8 in the Bronx. The primary focus of the plan is on the development of short- and long-term improvements on the bridges themselves, at intersections near bridge ramps, and along corridors connecting bridges to major destinations for pedestrians and cyclists.
View presentations from workshops held in March 2016.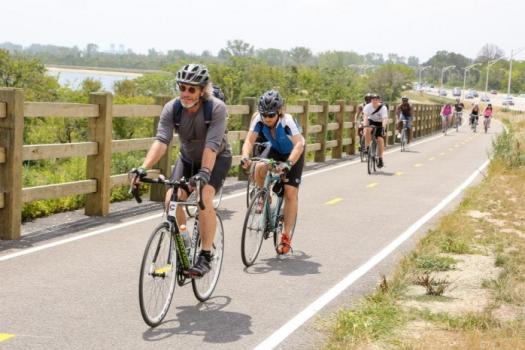 The Jamaica Bay Greenway is a planned 28-mile network of pedestrian and bicycle paths connecting communities along the Jamaica Bay waterfront to more than 10,000 acres of city, state and federal parkland, including Rockaway Beach, Marine Park, Canarsie Pier, Floyd Bennett Field and the Jamaica Bay Wildlife Refuge. More than 10 miles of the Greenway already exist, serving roughly 100,000 local and regional visitors annually. When completed, multi-use paths and on-street bicycle markings will create a loop route around Jamaica Bay, allowing cyclists and walkers to commute, exercise and explore the Bay's natural beauty from Sheepshead Bay and Spring Creek in Brooklyn to Howard Beach and the Rockaway Peninsula in Queens. As the City and the National Park Service continue to invest in Jamaica Bay as a recreational destination and an economic driver for South Brooklyn and Queens, a cohesive, user-friendly greenway network is a critical resource for accessing all the Bay has to offer.
DOT has committed to growing the network of pedestrian, bicycle, and greenway facilities throughout the City. Over 380 miles of protected paths and lanes have been built, many of which connect more than 60 miles of planned or completed waterfront public spaces. Greenways provide a safe, convenient, and fun space for active recreation and non-motorized transportation. The completion of the Jamaica Bay Greenway is an important component of an interconnected Brooklyn-Queens waterfront greenway network.
Download the Executive Summary of the Implementation Plan.
Download the Full Jamaica Bay Greenway Implementation Plan.
When completed, the proposed Brooklyn Waterfront Greenway will be a 14-mile safe, landscaped, off-street path connecting neighbors and neighborhoods to four major parks and over a dozen local open spaces on Brooklyn's Historic waterfront. Separate paths for bicycles and pedestrians will allow cyclists and joggers as well as families and friends to exercise and relax at the water's edge. In addition, the Greenway will serve as an important transportation route for commuters.
View the Executive Summary of the Brooklyn Waterfront Greenway Implementation Plan.
See the Full Brooklyn Waterfront Greenway Implementation Plan.
Take a closer look at Greenways in NYC by visiting the Brooklyn Waterfront Greenway:
Click here for an audio described version of the "Greenways in NYC: Brooklyn Waterfront Greenway" video.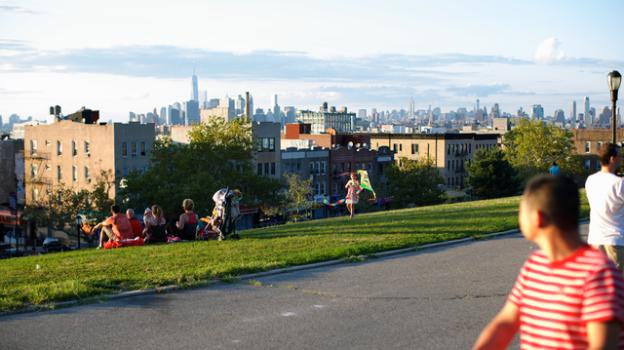 The Sunset Waterfront Access plan, begun in 2015, was a planning process conducted in partnership with community group UPROSE to establish safe and inviting pedestrian and bicycling routes connecting the Sunset Park upland area to waterfront destinations. Upland connector routes were envisioned as a combination of pedestrian safety improvements, bike facilities, landscaping, wayfinding and street furniture creating more inviting, environmentally sustainable spaces.
View a full project Overview, updates from 2015 to 2018, a feedback map, project funding information and past events related to Sunset Park Waterfront Access here.
Manhattan Waterfront Greenway
View the latest updates on the Manhattan Waterfront Greenway at the NYC Economic Development Corporation (NYC EDC) website.