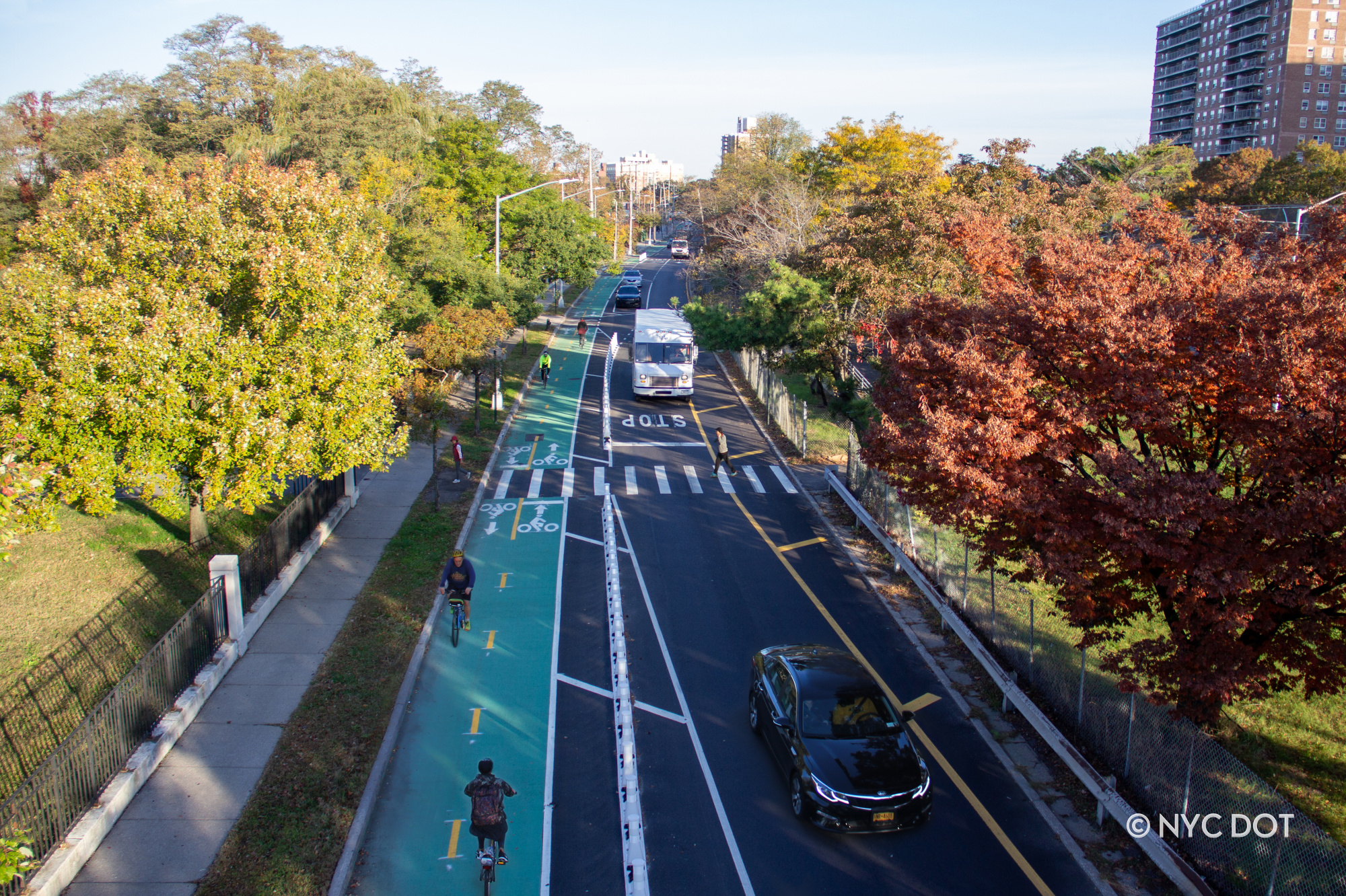 Background
New York City's greenways run through parks and along streets, providing safe and accessible green corridors for active recreation and transportation. DOT is responsible for the planning, design, and implementation of greenways on city streets.
New York City's Hudson River Greenway is the most heavily used bikeway in the United States—nearly 7,000 people ride a bike on the Hudson River Greenway every day.

The Ocean Parkway Greenway, constructed in 1894 and designed by F.L. Olmsted and Calvert Vaux, was the first separated pedestrian and bicycle path built in the U.S.

New greenway lane miles have been constructed in all 5 boroughs.

The Bronx River Greenway is 23 miles long and connects several parks, historic sites and green spaces including Soundview Park, Starlight Park and Concrete Plant Park.
History
Greenways in New York City date back more than a century, to the nation's first separated bicycle and pedestrian path constructed in 1894 along Ocean Parkway. Robert Moses included greenways in many of his plans for New York's highways constructed in the mid-twentieth century, which include paths along the Hutchinson River Parkway in the Bronx and the Belt/Shore Parkway in Brooklyn and Queens.
In 1993, the Greenway Plan for New York City laid out a vision for a system of landscaped paths connecting the City's residential and commercial neighborhoods to open space and waterfront areas. The NYC Department of Transportation (DOT) and the Department of City Planning (DCP) then produced The New York City Bicycle Master Plan of 1997, which incorporated the Greenway Master Plan's goal of 350 miles of greenway throughout the city into a 900-mile citywide network of on- and off-street paths and bike lanes.
Today, there are already over 100 miles of completed off-street Greenway paths. Recent additions include the Brooklyn Waterfront Greenway (BWG), a 14-mile stretch of on- and off-street paths connecting the North and South Brooklyn waterfronts from Newtown Creek to Shore Parkway. Originally explored in a 2012 implementation planning study, most portions of the BWG are in use today, with a few remaining segments currently in design or construction. In Manhattan, the Hudson River Greenway—North America's busiest bike path—along the west side of Manhattan, regularly sees over 7,000 cyclists per day.
In August 2022, the United States Department of Transportation announced a Rebuilding American Infrastructure with Sustainability and Equity (RAISE) grant award for New York City to plan for a major expansion of greenways across the five boroughs. On a parallel track, the New York City Council enacted local legislation (Local Law 115 of 2022, New York City administrative code §19-1100) that requires DOT and DPR to develop a citywide greenway plan and publish annual reporting updates online starting in December 2024.
As of 2023, New York City DOT, in partnership with NYC Parks and NYC EDC, is poised to embark on an historic planning and implementation effort over the next decade to further grow the greenway network and provide high-quality, continuous biking and walking facilities for New Yorkers.
Benefits
Greenways offer New Yorkers a peaceful break from their busy lives and an opportunity to enjoy landscaped continuous paths within City limits. These linear parks expand open spaces into neighborhoods. DOT works to build greenways on City streets and collaborated with other City agencies to elevate the quality of greenways in New York City.
Our goals are:
Safety for all path and road users, including pedestrians

Promoting affordable and zero-emission mobility options

Enhancing public health

Providing access to jobs and essential services

Increasing recreational opportunities

Increasing access to open space

Expanding transportation choices for a broader range of road users

Connecting residents and visitors to historical and cultural destinations, as well as regional biking and hiking trails
See NYC greenways in action by visiting the Brooklyn Waterfront Greenway:
Click here for an audio described version of the "Greenways in NYC: Brooklyn Waterfront Greenway" video.
Mailing List
Please sign up to receive project updates on NYC greenways here: https://www1.nyc.gov/html/dot/html/contact/email_signup.shtml