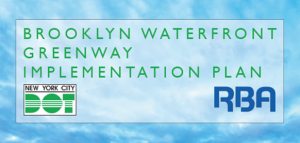 NYC DOT launched the Brooklyn Waterfront Greenway Project in November 2009 in an effort to formalize a community-lead initiative for a 14-mile multi-use path stretching from Newtown Creek to Owl's Head Park. DOT-lead effort is built around three concepts: increasing access to the waterfront, improving pedestrian and bicycle safety, and connecting the numerous public open spaces along the waterfront. The project will capitalize on existing sections of the Greenway, including Kent Avenue and Columbia Street, in order to reexamine the use of public right of way and work with other agencies to come up with a long-term, implementable vision for a Waterfront Greenway.
In June, 2012, DOT releases the Greenway Implementation Plan, which finalizes the route and lays out the steps for completing the project. The document includes the finalized route, implementation framework and funding options for the 23 capital projects that will complete the greenway as funding becomes available to connect neighborhoods from Greenpoint to Sunset Park.
DOT has engaged RBA consultants on a 2-year master planning process in order to develop a short-term implementable design and a long-term off-street path that will guide waterfront development over the coming years. In late March, DOT will begin a series of community workshops focused on understanding existing conditions, designing the Greenway and then presenting the final route. There will be three workshops in each of the waterfront neighborhoods that the Greenway traverses, including Sunset Park, Red Hook, Downtown Brooklyn and Williamsburg/Greenpoint.