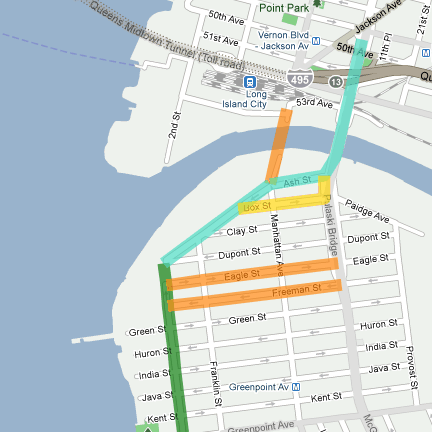 During the Greenpoint/Williamsburg workshop (10/21/10), we explored several alternatives for the northern end of the Greenway.  Three route options were developed.
Route A (shown in blue) uses Commercial Street.  Commercial Street is 42' wide, with traffic in two directions. There is also parking on both sides, so implementing a separated path along this stretch would likely change the configuration of the street. A major benefit of Route A would be narrowing the road between Greenpoint Playground and Newtown Barge Terminal Playground and connecting the two open spaces to Manhattan Avenue Street End Park. This route does not require, but would be greatly enhanced by, new bridge connecting Manhattan Avenue to Long Island City, Queens.
Instead of ending at Manhattan Avenue Street End Park, Route B (shown in yellow) would use local streets to access a possible new ramp onto the Pulaski Bridge and/or provide direct access to the Newtown Creek Nature Walk. The Brooklyn Waterfront Greenway Implementation Plan will explore the possibility of widening the bridge and/or providing a new ramp.
Route C (shown in orange) is already in place. Both Eagle and Freeman Street already are marked with sharrows to and from the Pulaski Bridge.  Due to the narrow width of these streets it would be difficult to improve the existing lane configuration.