Vision Zero is a citywide initiative to reduce traffic fatalities. The NYC DOT has identified priority intersections, corridors and areas in each borough. These are locations with high incidents of severe pedestrian injuries and fatalities. There are several locations in the neighborhood of Bedford-Stuyvesant and Ocean Hill - Brownsville. 
13 Vision Zero Priority Intersections (highlighted as red dots below) 
14 Vision Zero Priority Corridors (highlighted as red lines below)
1 Contiguous Vision Zero Priority Area (highlighted as a pink backdrop below)

Most of Brooklyn's CB 3 is covered by a Vision Zero Priority Area.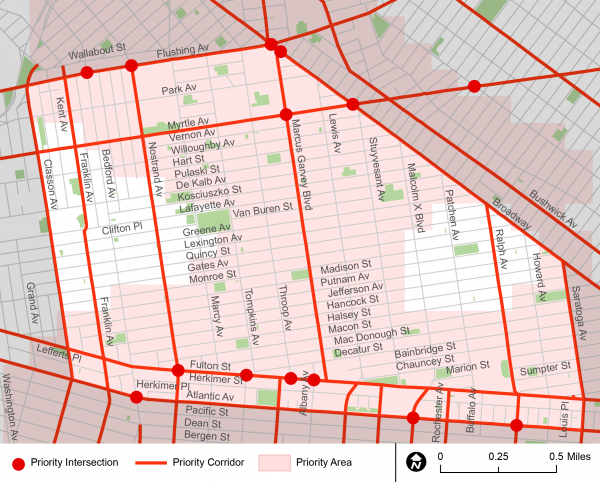 ---
Safe Streets for Seniors
Safe Streets for Seniors is a pedestrian safety initiative for older New Yorkers. The initiative studies crash data, conducts outreach and develops & implements mitigation measures to improve safety for seniors and all road users alike.
For more information regarding "Safe Streets for Seniors," please visit the "Reports" tab on the right hand menu. 
Safe Streets for Seniors Area Map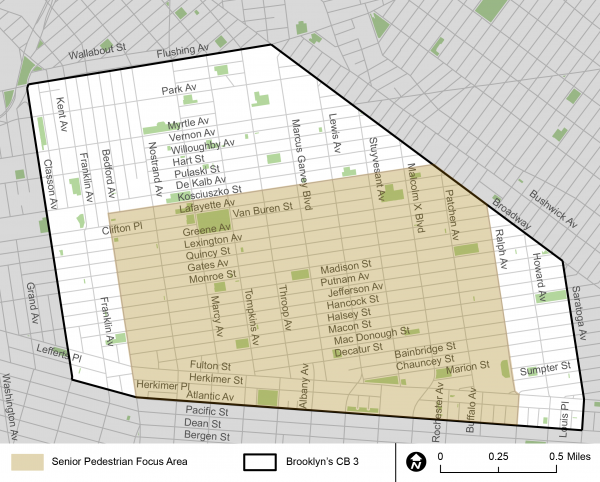 ---
Brooklyn's CB 3 Requests
In 2018, Brooklyn's Community Board 3 submitted multiple requests asking NYC DOT to address safety concerns in Bed-Stuy. These intersections are highlighted as red dots in the map below:
Fulton St & Marcus Garvey Blvd
Fulton St & Tompkins Ave
Atlantic Ave & Nostand Ave
Myrtle Ave & Broadway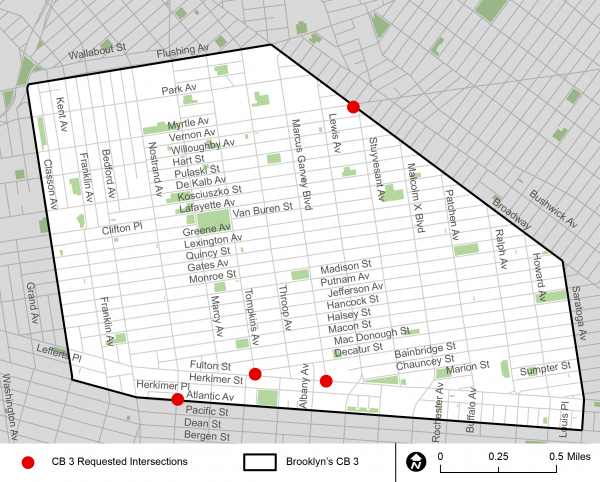 ---
Help Us Identify Transportation Issues
From the end of July through November, NYC DOT will be setting up mobile participation stations with the help of the Street Ambassador team. Street Ambassadors will be setting up where people naturally gather - busy streets, outside of subway stops, parks, libraries, and more!
Ambassadors will be setting up two boards that cover the information you can learn on this site and collect feedback through their smart phones to easily turn the conversations they have into data for our project managers and street designers. Participants are always thanked with a useful giveaway like a reusable tote bag or a pair of sunglasses. Check the "Events" tab on the left navigation bar to find a Street Ambassador near you. If you miss them, you can still fill out the survey by clicking on the tab on the left navigation bar.